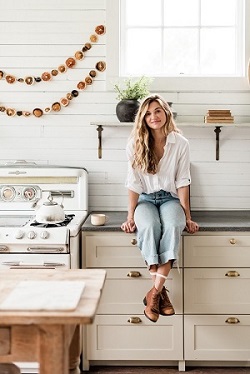 Claire Marie Zinnecker
Claire Marie Zinnecker is the founder of Claire Zinnecker Design, a boutique interior design group based in Austin, TX. Claire is a firm believer that every space tells a story. Her unique style paired with her passion for clean, affordable design has become her design aesthetic's trademark.Claire holds a BS in Interior Design from the University of Texas at Austin's School of Architecture.

She has since worked with some of Austin's prominent designers, completing residential and commercial projects including some of the most popular bars and restaurants in Austin. Claire founded Claire Zinnecker Design in 2013 in order to combine her passions for residential and commercial interiors with her love for designing and making furniture, lighting and accessories.

Currently, along with client projects, Claire is working on a passion project of her own called 'Saving Ida,' where she has renovated and brought an old home from the 1890s back to life as her personal residence on a riverfront property just outside of Austin.

Claire has been featured in Domino, Architectural Digest, House Beautiful, Dwell, and Real Simple, among others. Claire is the host of the popular NBC Universal Kids series "Get Out of My Room," and full episodes are available on Peacock.

See Claire Marie Zinnecker on stage Saturday, March 26th at 1 pm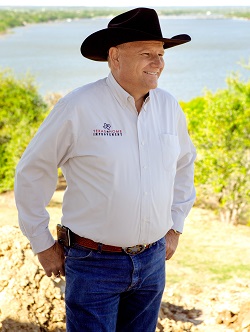 Radio Host Jim Dutton
Jim Dutton is the host of Texas Home Improvement, the #1 most listened-to home improvement radio show in the state of Texas, now in its 19th year. Jim also hosts the Texas Home Improvement TV show with its 4th season kicking off in April (currently on ABC Channel 8 and Quest 55 in Houston). Jim has over 40 years of home improvement experience, and is the owner of Du West Foundation Repair, Air Conditioning and Plumbing throughout the state of Texas.

Jim brings his home improvement knowledge and expertise to the radio airwaves each Saturday and Sunday across Texas. Listeners call in to get answers, advice and referrals from Texas radio's most respected contractor. Growing up in the family business Jim's father taught him the value of doing the job right and challenged him to explore how things worked and how fix them properly. These diverse skills paired with his vast experience as a contractor has allowed him to become a valuable consumer resource. Listeners love his no-nonsense approach and know they have a true ally in the world of home improvement and remodeling. Texas Home Improvement has been on the air for 18 years now and Jim calls his time with the audience each weekend the highlight of his week!

Come see Jim broadcast Texas Home Improvement live on the stage while he takes questions, demonstrates DIY repairs, highlights products that can save you the most money on energy bills, and much more. The broadcast will also be streamed live on the Texas Home Improvement website thipro.com.



See Jim Dutton live on stage Saturday, March 26th at 2 pm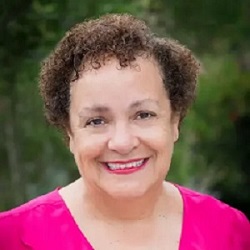 Jewell Parker - Shelf Genie
Jewell & Steven Parker are ShelfGenie Franchise Owners for the Austin Area. The Parkers were delighted to discover glide-out shelving while remodeling the home they had lived in for 25 years. For two busy professionals with equally busy children, it made sense to organize the hard to reach kitchen storage areas. They also found that installing custom glide-outs boosted the resale value of their home. The Parkers fell in love with the convenience of glide-out shelving and installed them in their new home, not only in the kitchen but also in the bathroom and laundry room. After enjoying successful careers in corporate America for more than 25 years, the Parkers began considering self-employment for their next chapter. While researching franchise opportunities, the Parkers were excited to find that the Austin ShelfGenie franchise was available. After researching the products, and talking with other owners and the national support team, they decided that the ShelfGenie culture and commitment to quality were a match! The Parkers assumed responsibility for the Austin Market in August 2018.

See Jewell Parker on stage Saturday, March 26th at 3 pm and Sunday, March 27 at 2 pm
Jennifer Ransom - Tailored Living of Central Austin
Jennifer Ransom is the proud owner of Tailored Living of Central Austin, a home design services company delivering custom built organizational systems for the home and office. Bringing calm to chaos is the keystone of Tailored Living, creating beautiful, but functional, spaces in closets, garages, pantries, mud rooms and utility rooms, home offices, and more. Tailored Living of Central Austin offers free in-home consultations, expert design, and white glove installation services, giving you back your time, space, and sanity. A locally owned, service-disabled veteran and woman owned business, Tailored Living of Central Austin believes your home and office should be a reflection of who you are and how you live. They pride themselves on connecting with clients and solving their problems in specific ways tailor-made to meet their needs.
Before launching Tailored Living of Central Austin last fall, Jennifer became certified as an interior designer after a career in strategic planning and consulting for nonprofits across the state, and 12 years in state government and politics. She's had a lifelong passion for design and organization and subscribes to the Marie Kondo method of being surrounded by things that bring you joy – both materially and experientially. She delights in helping clients find a place for everything and everything in its place.
See Jennifer Ransom on stage Friday, March 25th at 1 pm and Saturday, March 26 at 5 pm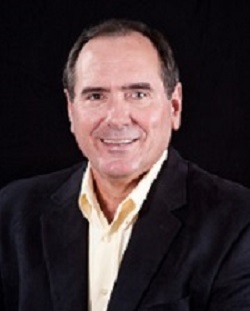 Dennis Celsor - Built Green Custom Homes
Learn the secrets to really add affordable energy efficiency as you design-build your new custom home. Build green while protecting the green in your bank account too.

See Dennis Celsor on stage Friday, March 25th at 4 pm and Sunday, March 27 at 4 pm
Jason Tunzer - Screenmobile
Quality screen products include professional installations. Screenmobile uses only the highest quality, name-brand screen products, so you know that your new screens will work and look great for years to come. We offer the highest quality in window screens, door screens, porch and patio screens, retractable screens and disappearing screens and we're probably right around the corner from you. Whether you need new window screens or sun control screens or solar screen panels to lower your cooling bills, your new screens will be made to order, on-site, with our "Screenmobile Guaranteed Fit". You can also have brand new screen doors made and installed. Much has changed in screen door styles and technology, so don't miss our complete line of doors including, retractable screen doors, swinging screen doors, sliding screen doors, even security screen doors.

See Jason Tunzer on stage Friday, March 25th at 5 pm
Roger Diebel - MCS Mosquito Control and Mist Cooling
Roger brings 20+ years' experience in the Indoor and Outdoor appliance and design industry. He has work with manufacturing, distribution, sales, and outdoor design sectors in the Southwestern part of the United States. His broad background will benefit the regional/national growth of MCS Outdoor Living Specialists.
Roger will target Cooling and Misting System, Mosquito Control Systems, Multiple Outdoor Heating Manufacturers, and he will grow the Outdoor firepit, grill, griddle, refrigeration, door front, and decorative lighting for multiple distribution lines for the home use, restaurant, hospitality, and single and multi-family markets.
Roger is a graduate of Texas A&M and has a diverse business background.
Enrique Amaro and Thomas Best, owners of MCS Outdoor Livings, say, "We are excited to have Roger on board, and we know that he will do a fantastic job for us."
See Roger Diebel on stage Sunday, March 27 at 3 pm